Bluto is an innovative and original bread delivery service created by bread lovers for bread lovers. We are committed to delivering the best quality products, straight from the oven to your door, fitting your daily life. We are the milkman for bread!
Order until 10am the day before
Fully flexible, edit at any time
What is Bluto?
Bread at its best
Our products are freshly baked everyday by our exclusive partner La Boulangerie Robuchon with the best ingredients. We literally take the products out of the oven to bring them to you. "Bread is not just another product. It is craftsmanship and tradition. At Robuchon, there is a real reverence for the art of bread making."
Top quality!
Learn more
A premium delivery service
We offer a premium delivery service that matches the quality of our products. From the delivery process to customer service, we build a tailored relationship with every member of the Bluto family especially by taking care of the deliveries ourselves, always with a smile!
Flexible!
Tailored to your needs
Want to have fresh bread on your table with every meal? Fancy a delicious breakfast with your family? Hosting a special event? Not at home to receive your order, or only between 7 and 8? We cover all your needs in a very flexible way. Discover all the options to order below, or contact us for special enquiries.
Convenient!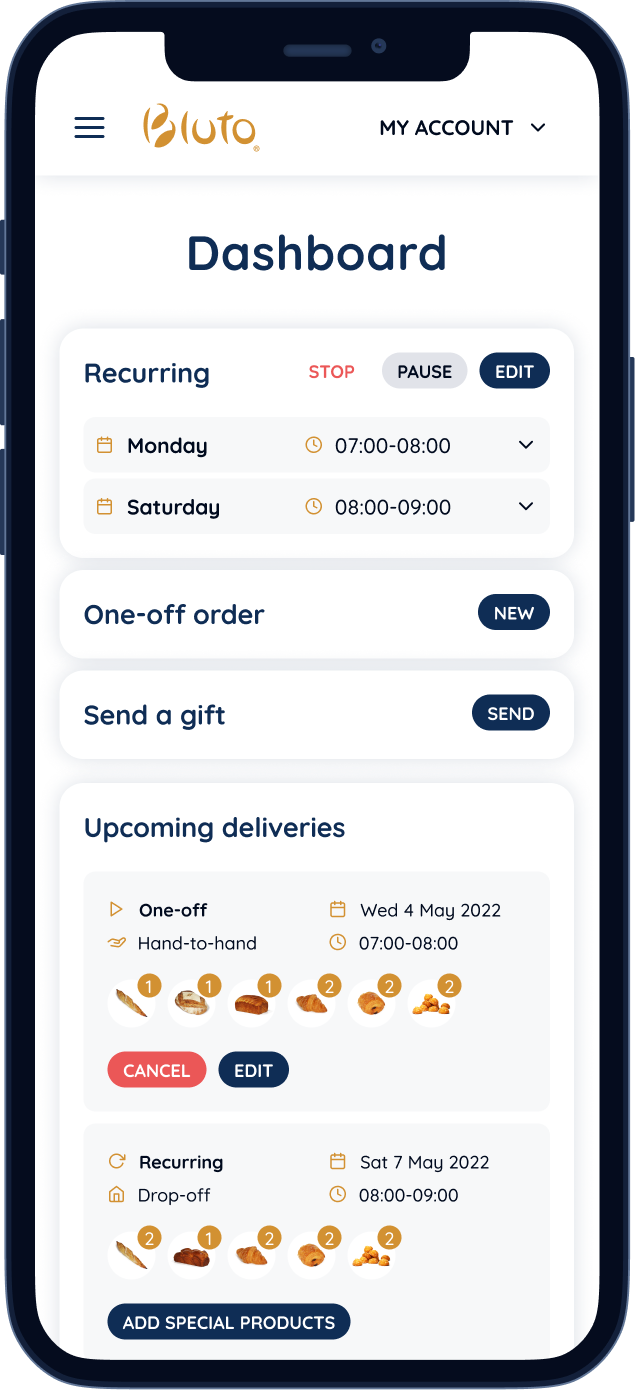 What people say about us
We've been Bluto since the beginning and can highly recommend not only their bread and pastries, but their customer service as well!
Very good quality bread, always delivered on time, by kind people and a very easy website to make/amend orders.
Love your products, love your passionate and dedicated team […]. Thanks for your positive and enthusiastic vibes, you are doing such a great job! Congrats!
I highly recommend Bluto! Their raisins and walnuts bread is delicious with cheese and the puff brioche is divine!
The products are good and the delivery service efficient.
Very beautiful product, nice selection and delivered exactly each time.